---
2016

YOU AND THE NIGHT AND THE MUSIC

Olympia Paris, Décembre 2016

---
2016

Michel Polareff

Berci Paris, 7 Mai 2016

---
2016
Julien Clerc


Palais des Sports, Porte de Versailles

---
2016
Renaud, Octobre 2016

Zenith La Vilette Paris

---
2016
Résiste, 28 Juin 2016

Palais des Sports, Porte de Versailles

---
2016
Téléphone (Les Insus)

Les Francofolies La Rochelle, 17 Juillet 2016

---
2013
JAZZ AU CANAPE
Gif sur Yvette, Dimanche 8 décembre 2013


---
HOMAGE A STEPHANE GRAPPELLI
Philip Catherine, Didier Lockwood, Diego Imbert
Salle Guy-Vinet Palaiseau, Jeudi 28 Novemvre 2013
CAP SAINT OUEN
Festival Jazz Musette des Puces de Saint-Ouen. Le grand concert : le 22 juin 2013 avec Nadeah.
---
2012

---
ANA POPOVIC
Salle des Fêtes de Mainvilliers, Mercredi 20 Mars 2012
KENNY GARRETT Quartet
Salle Playel, Dimanche 11 Mars 2012
---
2011

---
SYLVAIN LUC
Espace Pierre Cardin, Samedi 26 Nov 2011



MISHA PIATIGORSKY

,
Tuesday 25 Oct 2011 @ZINC club NYC

CHARLES AZNAVOUR
l'Olympia Paris,Vendredi 30 Sept 2011
GEORGE BENSON
l'Olympia Paris, 29 Juin 2011
SYLVAIN LUC & FRIENDS
Salle Pleyel Paris, Samedi 14 Mai 2011,
Bireli Lagrène, Richard Bona, André Ceccarelli, Thierry Eliez
OMAR SOSA AFRI-LECTRIC QUINTET
May 3rd, 2011 Blue Note, NYC
,
with special guest Lionel Loueke
JOYCE JONATHAN
L'Olympia Paris, Jeudi 28 Avril 2011
BILL DERAIME Quarted
Vendredi 8 Avril 2011, Mainvilliers (Chartres)
FLORENCE FOURCADE Quartet
Moulin de Lambouray (Jouy near Chartres), Sam 19 Mars 2011
HOT SA
BOBY LAPOINTE
,Villebon sur Yvette, 22 Janvier 2011
Thomas Ohresser: Guitare, Paddy Sherlock: Chant & Trombone)
---
2010
---
YOU AND THE NIGHT & THE MUSIC


L'Olympia 20/12/2010



LA NUIT DES MUSICIENS (Espace Cardin)


Manu DIBANGO 5/11/2010




Yves JAMAIS 6/11/2010



NORAH JONES


Vendredi 25 Juin 2010 , l'Olympia. I liked very much the blues side of Norah but I'm much more skeptical for the country side.



CAP SAINT-OUEN, GRAND CONCERT


Samedi 19/juin/2010 ST-OUEN

Marcel Azzola, Didier Lockwood, Swan Berger Trio, Marcel Campion, ZAZ : "Révélation du festival"Maurane : "Hommage à Claude Nougaro", Dorado Schmitt : " Quartet manouche (Hono Winterstein et Marcel Loeffler)" , Tchavolo Schmitt et Ninine Garcia



BIRELLI LAGRENE & SYLVAIN LUC & ANGELLO DEBARRE


Samedi 8 Mai 2010, Théatre du VESINET

(merci à Philippe)

ERIC BIBB


JAZZ de MARS, Mainvilliers(28), 2 Avril 2010, en première partie Marc-André Leger.

Bon son résultat d'un mélange Blues et Country.



Ti'BOON


GASVILLE-OISEME (28) - Jazz de Mars, 20 Mars 2010, compositions de Mathieu Parcheminal

.

Son type Johny Clegg.



JACQUES HIGELIN
Paris, 12 Mars 2010, La Cigale, super spectacle avec 8 musiciens dont une section cuivre.

---
2009

---
MAXIME LE FORESTIER


Les nuits des musiciens, 3 Dec 2009, Le Trianon



YOU AND THE NIGHT AND THE MUSIC
Paris Olympia Nov 30th 2009

LARRY CARLTON
Ozoir la Ferrière Espace Horizon, Nov 20th 2009

COREA, CLARKE & WHITE


20 Oct 2009, Grand REX, CareFusion, JazzFestivalParis



SAMY DAUSSAT


16 Sept 2009, L'ATELIER CHARONNE



HANK JONES & JACKY TERRASSON


11 Sept 2009, JAZZ A LA VILLETTE, PARIS



LEE RITENOUR & FRIENDS


NEW MORNING, July 8th 2009, Paris



FESTIVAL JAZZ MUSETTE DES PUCES SAINT-OUEN, 13 juin 2009,


Le Grand concert, Biréli Lagrène, Richard Galliano, Didier Lockwood, Angelo Debarre, Stochelo Rosenberg, Romane, Boulou et Elios Ferré, Ninine Garcia, Swan Berger



LA CIGALE, Paris


CARAVAN PALACE, Lundi 6 Avril 2009.



CASINO DE PARIS


Michel JONASZ Trio, Mardi 3 Mars 2009,




(Merci à Gérald)



L'ONDE, Vélizy
L'Onde, Sam 7 Février 2009, Sylvain Luc, Steve Gadd, Richard Bona (Thanks to Christian)

---
2008

---
TSF: YOU AND THE NIGHT AND THE MUSIC


Olympia Mon Dec 22nd 2008, Avec Stochelo Rosenberg & Didier Lockwood, Robin McKelle, Giovanni Mirabassi, Jacques Schwartzbart, Jean-Jacques Milteau, Mario Canonge, David El Malek, Stefan Patry, Fabien Mary, Stéphane Huchard, les frères Belmondo, Yaron Herman, Laurent Robin, Philip Catherine.



ROLAND DYENS


l'Archiptel in Paris Dec 13th 2008, a great moment of classical guitar. Pixinguinha songs have been played.



LES NUITS DES MUSICIENS 2008


Trianon Paris, 4 Dec 2008, Grand Corps Malade




Trianon Paris 6 Dec 2008, Stephane Belmondo



Rhoda SCOTT


Theatre de LONGJUMEAU, 29 Nov 2008.



JACQUES HIGELIN


Theatre de Neuilly, 17 Oct 2008.



JOUR DE FÊTE A PALAISEAU 2008


Samedi 28 Juin 2008, Youssou N'Dour



FESTIVAL DJANGO, SAMOIS 2008


Vendredi 27 Juin 2008




Latches: Chriss Campion, Steeve Laffont, Gino Roman




Didier Lockwood Trio:Didier Lockwood(violon), Jean-Marie Ecay(guitare), Marc-Michel Le Bevillon(contrebasse)



PARIS Bercy, Carlos Santana


Mardi 24 juin 2008, Black Magic Woman, Oye como va (Thanks to Philippe Ch.)



PARIS JAZZ FESTIVAL, PARC FLORAL


Sunday June 22nd, 2008, 15H




Romane Trio




Nino Josele Trio (Jazz Flamenco)



---
2007

---

RODOLPHE RAFFALLI
Rodolphe Rafalli et Darko Andelkovic à La Taverne de Cluny à St Germain des Prés 27 Déc 2007.

GUY BEDOS (résistance)
Hier aujourd'hui demain, Samedi 22 Decembre 2007 au Théatre du rond-Point.

Rhoda Scott
"The barefoot Lady"
Samedi 8 decembre 2007 à Villebon sur Yvette

Johny Clegg
September 23rd 2007, Villebon sur Yvette

Pat Metheny & Brad Mehldau
Olympia, July 3rd 2007, Paris

Angelo Debarre & Ludovic Beier Group
Festival Django Reinhardt, June 29th 2007, Samois sur Seine (south of Paris)

SANSEVERINO EN CONCERT
Chartres EXPO Mercredi 28 Mars 2007

---
2006

---
Jacky Terrasson
Nuit des Musiciens, December 8th 2006, Théâtre du Trianon Paris, invited Agnès BILH - Chant, Charles AZNAVOUR – Chant, Michel PORTAL...

CABARET
Paris, Les Folie Bergère Mercredi 29 Nov 2006

Guy Roel & Olivier Louvel
Orchestre National de Jazz revisit Led Zeppelin ,Théâtre de L'Alliance Française, Paris, May 5th 2006

George Benson
Kenny Burrell
Philip Catherine
Charlie Christian
Birelli Lagrène
John McLaughlin
Pat Metheny
Wes Montgomery
Joe Pass
Django Reinhardt
John Scofield
Larry Carlton
Lee Ritenour
Eric Clapton
Mike Miller
Jimi Hendrix
Steve Lukather
Mark Knopfler
Eddie Van Halen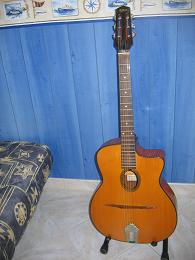 ---
2016
L'envers du décor avec Daniel Auteuil au théâtre de Paris 7 Octobre 2016

---